Serendipity is The First


Serendipity Park is pleased to announce that they are the first nudist club in the nation to receive a shipment of the all new sun tanning products known as Nude Beach Tan. Jeff Weiss has worked diligently to bring this product to the market place, and we are proud to be the first to have his line of lotions and oils on our shelves.
The packaging is eye catching; the lotion smells refreshing, and the fact that a portion of the proceeds from the sale of his products goes to the AANR Legal Fund makes selling the products a sure thing.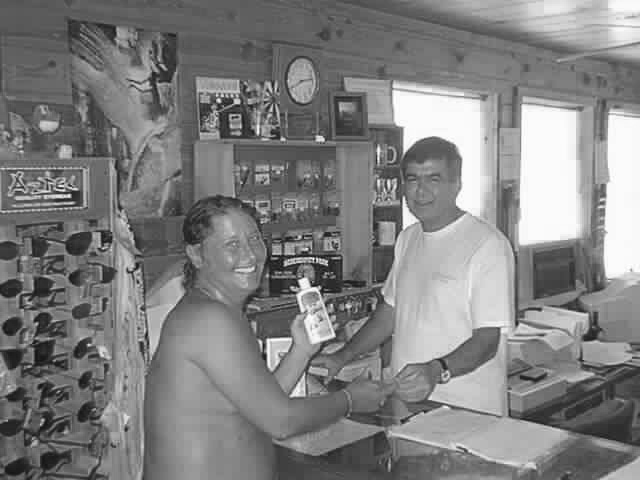 In the picture you can see Serendipity member Kathy Ray purchasing the very first bottle of bronzing lotion from Paul Jones, ESA President. Within minutes of placing the lotions on our shelves people were lined up to purchase them. It has only been two days and already we are receiving positive feedback from our members, and visitors, who have purchased the products. We know that Serendipity will be a regular customer of Jeff's.
We would like to take this opportunity to thank Jeff for what he is doing for AANR, and for all of the nudists in the association.

To cap off a perfect New Years Eve celebration at Serendipity Park, Rev. George Muss performed the double ring ceremony uniting Serendipity members Margo Biesterfeld and Chris Orioli right after the ringing in of the New Year. The wedding, the tenth for Serendipity within the past 5 years, was held in the 4000 sq.ft. clubhouse instead of Serendipity's new outdoor chapel due to the extremely cold weather, and was attended by over 70 old and new friends, as well as family members and neighbors. We wish the newlyweds the very best, and know they will have many fond memories of a very special evening.






How To Talk To A Non-Nudist About The Nudist Lifestyle FAQs about a Lupin Vacation A Male Tribute to Lupin Naturist Club Women Lupin, Nudity, And Sexuality Serendipity Nudist Resort Who Wins in Nude Recreation? Pondering the Penis What Others Say About Nudism The Lupin Guide to Nude Recreation Newd Life


E-mail: office@a-nudist.com
(718) 552-6151/22
Public Office - New York City, USA © 1997-2021